While there are many benefits associated with keeping a consistent workout routine, I've discovered that most people, like myself, are already busy and literally don't know where to start.
Since I started running just over two years ago, it's safe to say people have started to perceive me as  one of "those people" – you know, the Chris Traeger-esque serial runner. I really don't know how I became one of "those people," but that's where I'm at, and I've [mostly] decided to embrace it. I love to run, and I can no longer imagine my life without running. However, I work in PR, consistently considered one of the most stressful jobs, prompting friends in and outside of the industry to ask how I stick with running.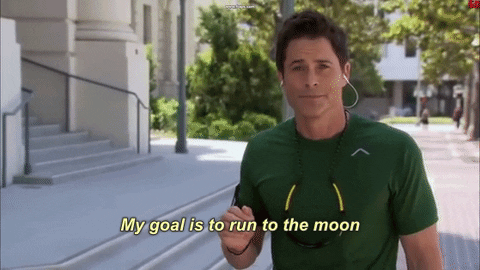 Even though the question makes me a bit uncomfortable (most days I'm just trying to stay afloat), I think back to the time in my life where I was not one of "those people." I can relate to my friends who are struggling to find a balance between finding an enjoyable exercise regimen and fitting that in with the busy-ness of everything else in life, because that was me, nearly three years ago.
I think they key to my workout routine lies in the systems I've developed to keep up with healthy habits. These are really what's made me seem like one of "those people," even though I'm usually barely holding it together. Here are my secrets for not completely failing at working out being one of those people.
Set firm work life boundaries.
Perhaps, more than anything else, this is the hardest. I could be on email all the time, and there is always more work that I could stay late to accomplish. And I've actually chosen a career that's notorious for both of those things. Lately, I've been focusing on only the most important things each day, and leaving the rest for another day. When you make time in the evenings to do the groceries, keep the house clean, work on creative endeavors and, of course, run, you'll feel rejuvenated and ready to take on the next day.
Always have a goal
In order to stay on top of my workouts, I have to stay signed up for a race. As of late, I've been training for the Rock 'n Roll Half Marathon in Dallas this upcoming weekend, and have the Cap 10K slated for April. Quite frankly, if it weren't for a goal, I don't know how I would do it most days. I don't have it all together!
Don't set unrealistic expectations
Running 5 times a week with a busy weekday schedule? That's not realistic for me, but running 3-4 times a week is doable, because I can take advantage of my weekends (and remember, you can only do that if you actually follow rule no. 1).
Get a planner and list your to-do's
Planning when I'm going to complete my runs means that I'm likely to make adjustments in my schedule to accommodate. I'm not a morning person, but if I know I have a lot going on in the evenings, I can make a point to get a workout in in the morning. Plus, this may sound weird, but I love writing things in my Kate Spade planner.
Bring your clothes to work
Purchasing a gym bag has been one of my best investments. When I take the time to plan out my day and decide on what I'll wear to work out after work, I am motivated to make the stop by the gym on the way home. This one from adidas is very similar to mine – it has a compartment for your shoes and pockets inside for jewelry, socks, etc.
Get a gym membership
Find a place that has weights and cardio equipment, as well as hours that work for your schedule. This makes it much easier not to make excuses (the weather, a late night at work, you name it, I've made them all). Going to the gym can really help you to stay consistent.
What are some of the tricks you've learned to stay consistent?